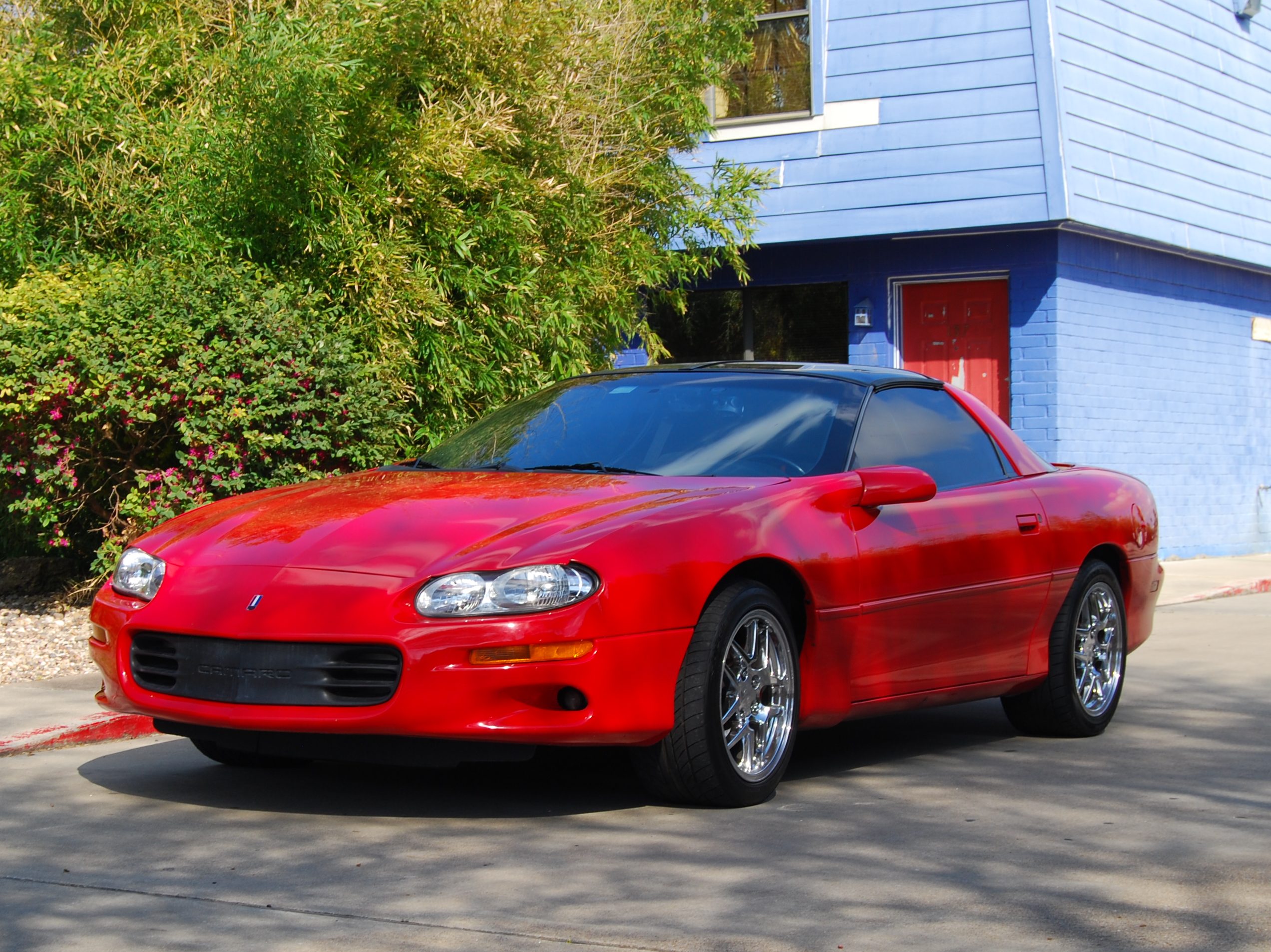 1999 Chevrolet Camaro
Retired 2013
In the summer of 2006 I moved to Boca Raton which is in South Florida. My friend recommended me for a job at a web hosting startup. I sold my daily driver back in New York and spent the first few weeks bumming rides to work. Finally I used my first paycheck and moving bonus on a 1999 Chevrolet Camaro. It was the base model with the Y87 option and ugly purple calipers.
This was my second car and the first car I ever modified significantly. It was mostly stock when I got it, with light cosmetic mods. Mods like ugly purple calipers, chrome grille, LED accents, and C5 Z06 style wheels. Over time it got headers a supercharger and lots of suspension work. I learned a lot with this car including basic engine management tuning.
When I bought it the car had about 90,000 miles and it had 140,156 when I sold it!
So what happened to this car?
This Camaro became my daily driver while I lived in Flordia. I didn't mod it much right away. It was the first rear wheel driver car I had and I enjoyed many donuts in my first months of ownership. One night I was flying down 441 towards Sample road with my friends. We were on the way to IHOP and my friend Dave in his Acura Legend came in way too fast after me as we exited. I was sure he was going to hit me, but instead he managed a crazy slide with his handbrake.
We knew we had a close call, but felt like we had more skills than luck. While waiting for a table at our favorite IHOP we saw a huge accident when a drunk driver hit the median and flipped. This made me realize how much worse our close call could have been.
This car had the Y87 package which included some goodies from GM:
Zexel-Torsen Limited Slip Differential
3.42 Gear Ratio
PCM Transmission Tuning
Dual Outlet Muffler
The company I was working for moved to Houston in late 2017 and I followed along. Once in Houston I dove into the car culture much harder than before. I was starting to mod the Camaro and learn about detailing and paint correction. I got lowering springs, shocks, headers, electric water pump, and high ratio rocker arms. I also started tuning the PCM with HP Tuners.
In early 2011 my friends and I decided to rent a house with a garage which opened up DIY mod opportunities. Soon came big fuel injectors, a high flow fuel pump, and a supercharger. Lots suspension goodies such as sway bars, control arms and bushings followed.
Eventually I bought a different project car and found myself abandoning this project. I sold it in the spring of 2013 on craigslist.
To bump up the power I picked up a set of ceramic coated Pacesetter Headers with a 3" collector. These really opened up the sound and power of the 3.8L 3800 Series 2 V6. The install was a huge pain though, fitment wasn't great.
This car was eventually used as an off-road track beater and the cat was chopped out to make more power. It also started to make a lot more noise, flames and pops.
For great sound and flow I chose a 3" full exhaust from Texas Speed. This mated up well with my custom 3" s-pipe and 3" headers collector.
To mate up all of my 3" exhaust bits I commissioned a custom 3" s-pipe.
This chamberless race muffler, or glasspack, mated up nicely with my 3" setup and provided dual 2.5" outlets.
These were generic 2.5" to 3.0" exhaust tips.