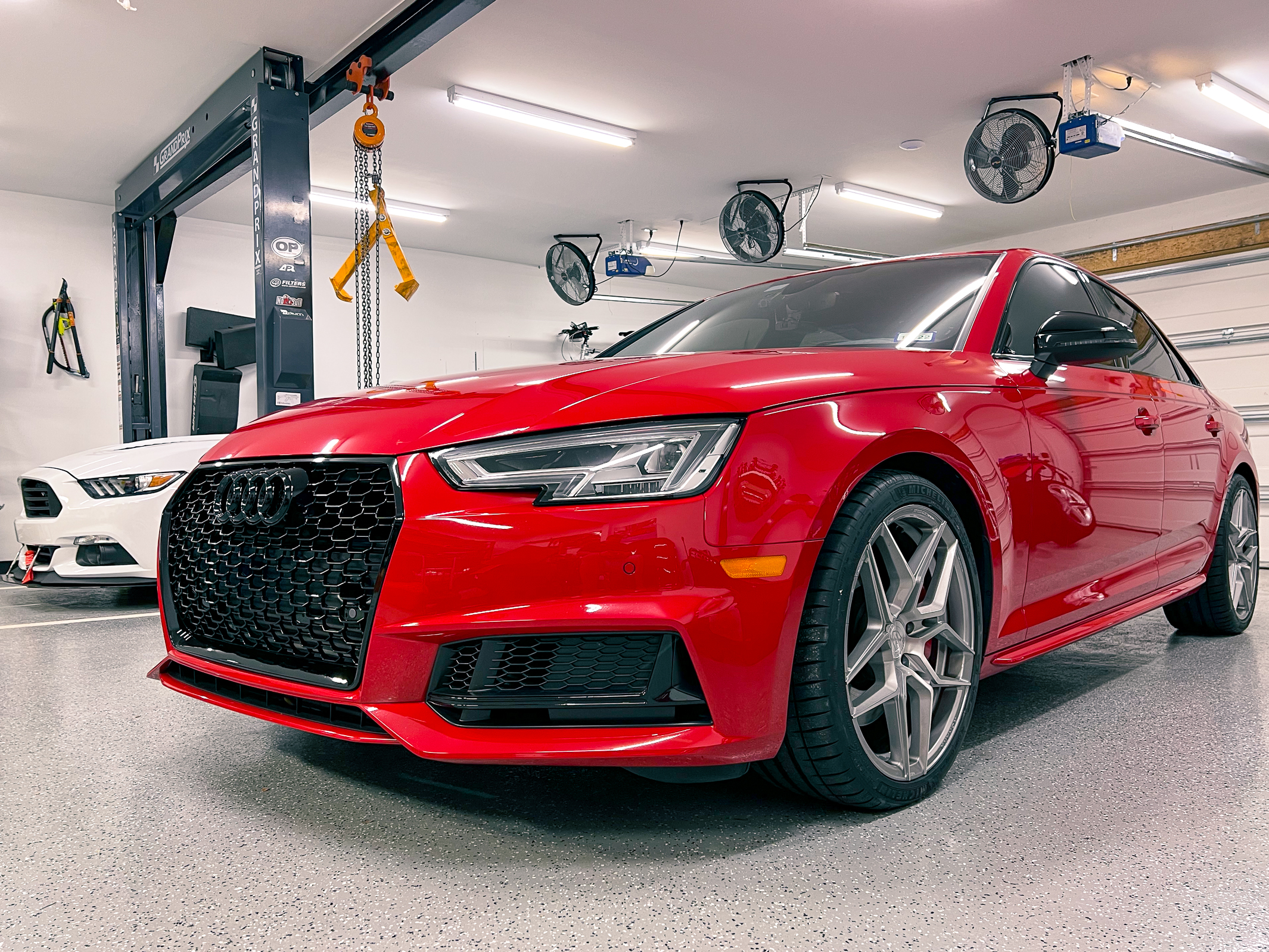 2018 Audi S4
Stage 3 Daily Driver
I really missed my B9 A4 as it was a great car. I thought about what I could do as a daily and thought the B9 S4 would be a great option. I found a very clean one with just 19k miles on the odometer. Unfortunately I was rear-ended soon after and decided to make it a project and take it to a Stage 3 build while continuing to use it as a daily.
What options did this car come with?
I came across my car at a non-VAG dealer that didn't seem to know anything about the car or any of its options. Funny enough they didn't even know where the factory toolkit was and instead salvaged a toolkit from what was probably an older A4 and threw it in the trunk leaving me with two kits. I imagine they didn't give a great trade-in value to the prior owner. They were selling it as a totally base car, but it was reasonably well optioned.
One of my must-haves for the B9 platform is the tech pack which comes with the best upgrades. The Virtual Cockpit digital display was amazing on my A4 as well. The larger 8.3" MMI display is a nice touch too with iPhone CarPlay support. Rear pre-sense is also added as well as side assist.
Another package you can't do without; S Sport includes the improved sport rear differential for optimal performance. Adaptive damping suspension makes a huge difference between performance modes. The big red brakes also really set the car apart!
This is one of the few colors I really love from Audi. I'm a sucker for red cars, but there are too many boring silver, gray, and black cars out there. It's always fun to get a bright blue or a sharp red. For me this option really scratched an itch!
This is one of the few colors I really love from Audi. I'm a sucker for red cars, but there are too many boring silver, gray, and black cars out there. It's always fun to get a bright blue or a sharp red. For me this option really scratched an itch!
Great upgrade to the basic leather, this option provides an upgrade to the interior, leatherette center console, and door armrests. Really ups the luxury factor on this already killer car.
To give the car more sports appeal the interior was appointed with carbon fiber inlays which pop vs. the brushed aluminum and other trims. I like interior carbon, but exterior carbon I'm not always sold on. Happy to have this option on this car.
It's certainly not stock!
This car is being transformed aggressively since it was rear ended by an unlicensed and uninsured driver. While it was initially going to be my daily, I decided to go all out with this build and still enjoy it as my primary car. Have to turn lemons into lemonade sometimes!
Engine & Forced Induction Modifications
This insert or lockout for the transmission mount really reduces slop. It's a great mod when you're bumping up the power of your car, and can help stock cars too. There was no notable NVH from the install and I loved the quality of the product.
This Street Density transmission mount from 034 pairs well with their insert and is easy to do at the same time. The combined result really helps getting the power down on your tuned or even Stage 3 car.
These rear differential inserts, or lockouts, from 034 are a great way to improve traction and performance. If you're runing a big turbo I think these are pretty much a must. The build quality is fantastic as always!
The subframe needs a bit of help so it doesn't flex and rob power when you launch. The factory bushes are soft and these lockouts/inserts are a great way to stiffen them up. 034 has done an amazing job with making this a beautiful to look at and highly functional product.
To run a stage 2 or stage 3 tune with 034 you need an aftermarket catalyst. The stock unit may not survive those tunes and the bigger turbo. I opted for the 034 catalyst because the build quality is fantastic and I like that it retains a racing catalyst rather than being a test pipe.
I was initially running the ECS X-pipe on my car, but wanted more sound while retaining the factory valve operation so the ride can be quieter on a road trip. The ECS kit is quite a bargain compared to other products, and the sound is amazing. The drone is still there, but that's how these engines are, no one has a drone free kit that I've seen.
To help the car corner, especially with added power, a new rear sway bar was a great addon. The install is quite easy and the performance gained is noticeable. I run mine on the stiffer setting!
To complement the new rear sway bar I opted for the beautifully made 034 end links. These will provide better compatibility with stiff aftermarket sways and help you if you want to adjust ride height.
Aero & Cosmetic Modifications
I picked this up from Enthusiast Brands, but it can be sourced anywhere including eBay. It's a great visual upgrade for the boring chrome covered stock grille that clashed with the beautiful Tango Red.
I wanted an aggressive diffuser without any chrome. I initially bought the piano black version of the ECS Tuning diffuser, but after I was rear-ended the diffuser was out of stock. I had to buy the carbon fiber one and have the body shop paint over it so it looks piano black. It may be silly to some, but I just love red and black!
I wrapped the chrome door trim with 3M piano black vinyl. Since the car was soon rear-ended I wound up paying the body shop to paint the rear spoiler and the other chrome pieces in the front fascia as well as the mirror caps. The car now has just a solid red and black two tone without chrome!
This car didn't come with a dipstick, just a cap on the tube! There is a digital readout in the MMI, but nothing beats a real dipstick when working on the car yourself, and of course VAG technicians have their own.
I'm not sure if I'm going to keep these, as I kind of want a new steering wheel. However, these do look cool, though they can be a bit hard to press at the top due to their design. I'll likely swap these out.
Lighting & Electric Modifications
This on-board screen fits into the vent gauge of the B9 and offers performance monitoring, data logging, diagnostics and full customization of the screen. Really amazing product that everyone modifying their B9 could use!
Audi doesn't include remote start! It's not legal in Germany and they don't seem to install them on internationally shipped cars either. 12 Volt solutions offers a great plug and play kit that gave me remote start via a 3 lock button click.
Weight Savings Modifications
Antigravity H7/Group-94R 60Ah batteries are much lighter than stock. This is a good weight savings for an already heavy car that you're trying to maximize performance of without gutting and cutting.
I replaced the spare donut with a patch kit and a very light/small compressor. Nice little savings as that thing was heavy!
Wheel & Tire Modifications
While the factory 18s weren't bad looking wheels, they didn't strike me as a perfect fit for this car. Especially as it started to look more aggressive with some of the cosmetic alterations. Rohana RFX11s were a perfect choice, I got 19x8.5 ET35 66.6 in Titanium.
I love Michelin PS4S tires. These are by far the best street compound. I'm not saying they're the best value, but if you want a street tire with decent life in it, no heat cycling issues, and tremendous grip on the street; Go with PS4S. I got mine in 255/35ZR19 XL 96Y spec to match my Rohana wheels.