Having finished installing the Fore Innovations Fuel System I found that I had a really strong gasoline smell from the Eaton Startlite hose that I was recommended. I ended up replacing those for a very similar hose, which no longer smelled. I also show you some new wheels, sticky tires and we paint some parking lines for my lift!
Ever since I supercharged the Mustang I've had traction issues. Especially once I switched to race gas for maximum power output. I knew I needed sticky rubber, but also some light and wide wheels. I ended up selecting APEX EC-7 ET52 18x11 wheels which were made specifically for my Mustang.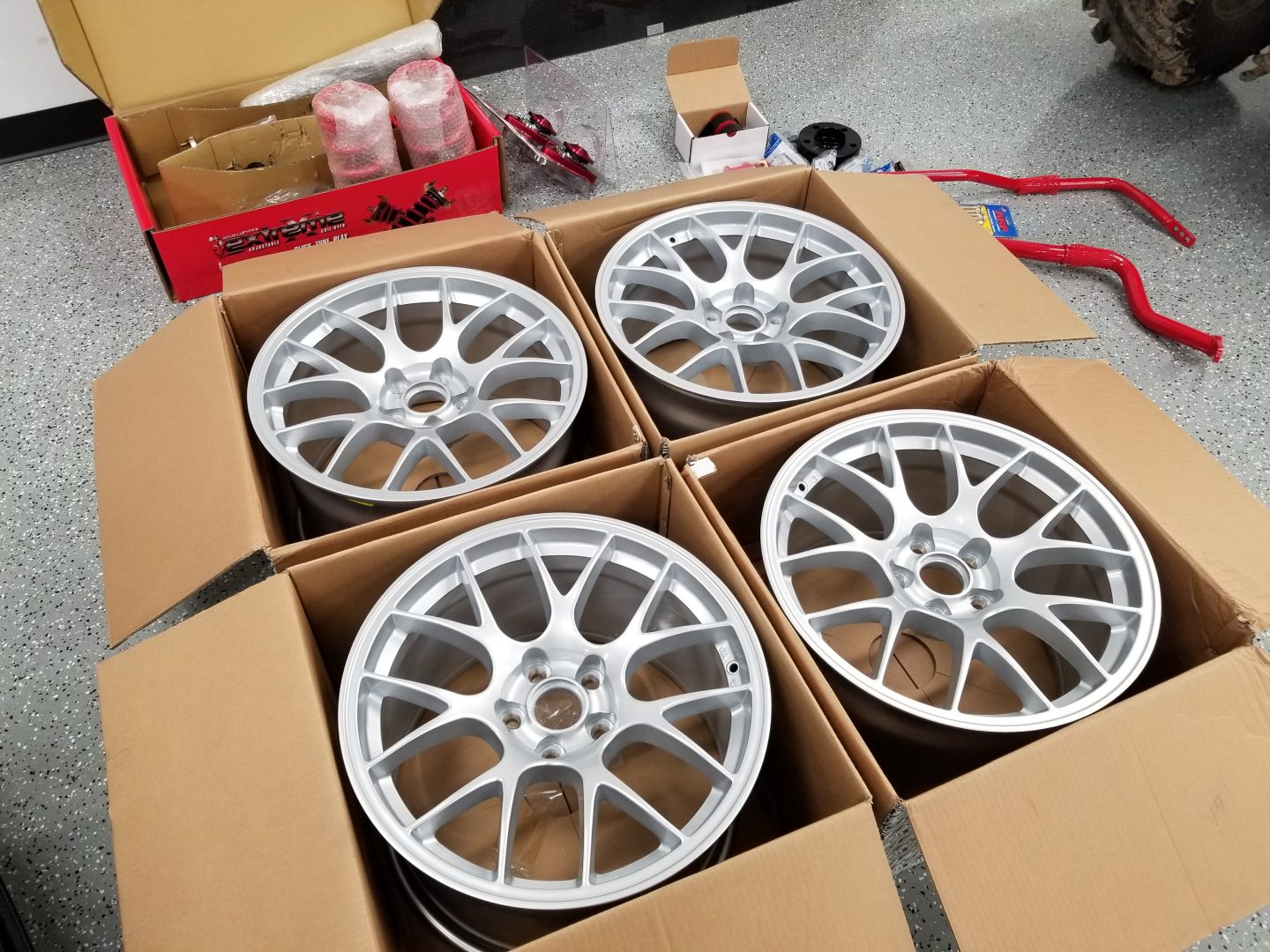 APEX has recently started manufacturing wheels for Mustangs, including my S550 generation GT. These are a completely direct hubcentric fit. These wheels were very light coming in at 22.85 lb each vs. factory 34 lb performance pack wheels. That's a weight savings of 11.15 lb per wheel or 44.6 lb in total!
That's a huge savings and it's in rotating mass. Why is that important? Rotating mass is much harder to accelerate vs. sprung mass like the car above the suspension. Losing 44.6 lb of rotating mass has a similar effect to removing 130lb+ from inside the car.
You can learn more about rotating mass and unsprung mass here: CJ Pony Parts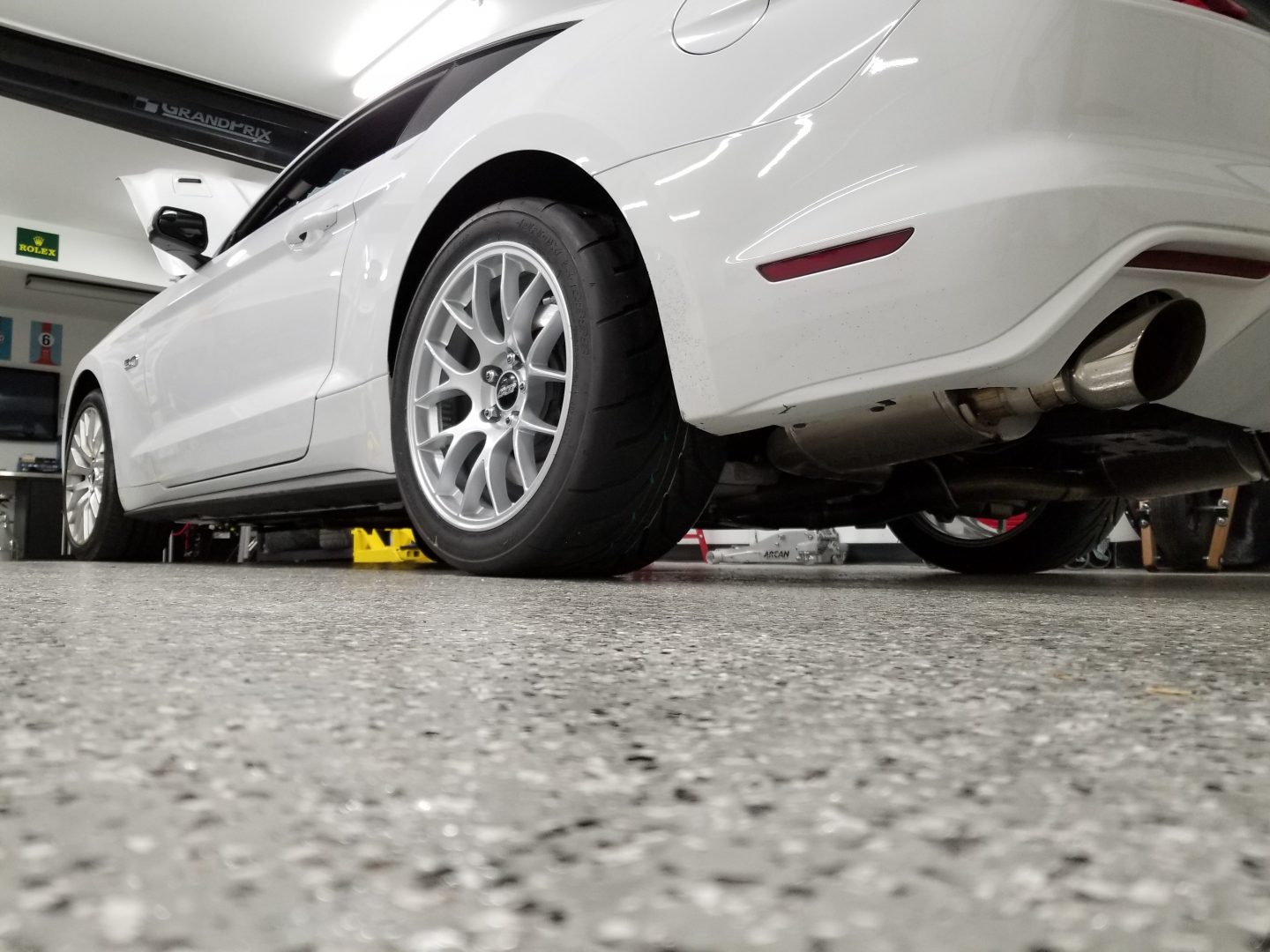 Unfortunately I couldn't get both front and rear wheels on the car yet. I still need to install the rest of my suspension components to make the front wheels fit. It's going to be a tight squeeze! So for now it will have to rock just the rears, which actually look pretty similar.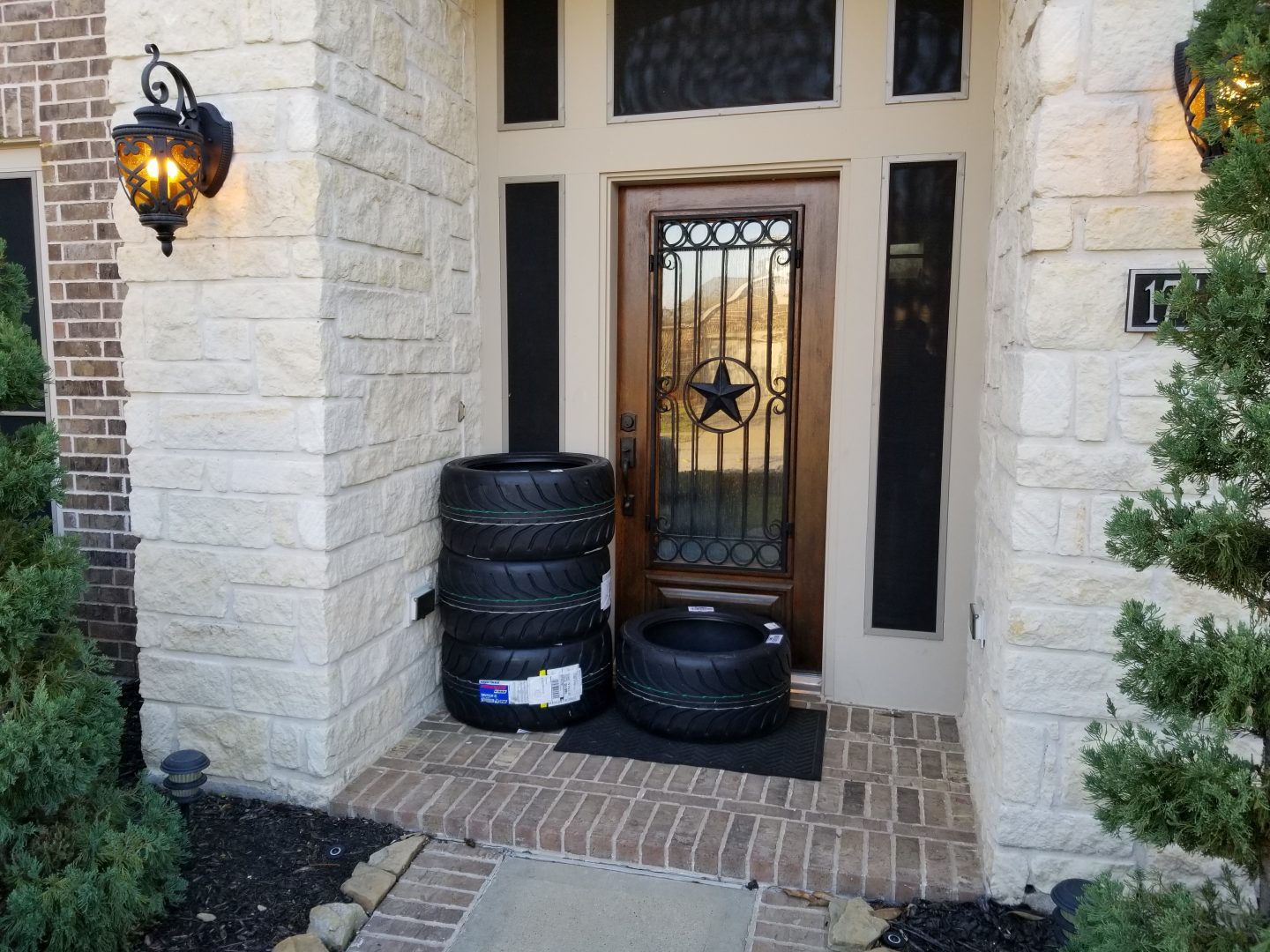 To go along with new wheels I also chose some new tires. I have wanted to run Toyo Proxes R888 for a while. I ordered a set of four in 305/35R18 to complete a square setup. They arrived quickly from Amazon and I took them to Discount Tire with my APEX wheel to get them mounted. Discount always breaks and loses center caps so I left them at home. They figured they lost them when I came back, hah! Shows how much attention they're paying.
The reason I chose such an aggressive square setup is for tire longevity and of course performance in the twisties. Using a square setup is best because it allows for tire rotation. It also doesn't increase understeer like a staggered setup, which is one reason many street cars have a larger rear tire, it's safer on the street. Of course narrower front tires are also easier to fit. Hence my problems getting the fronts on!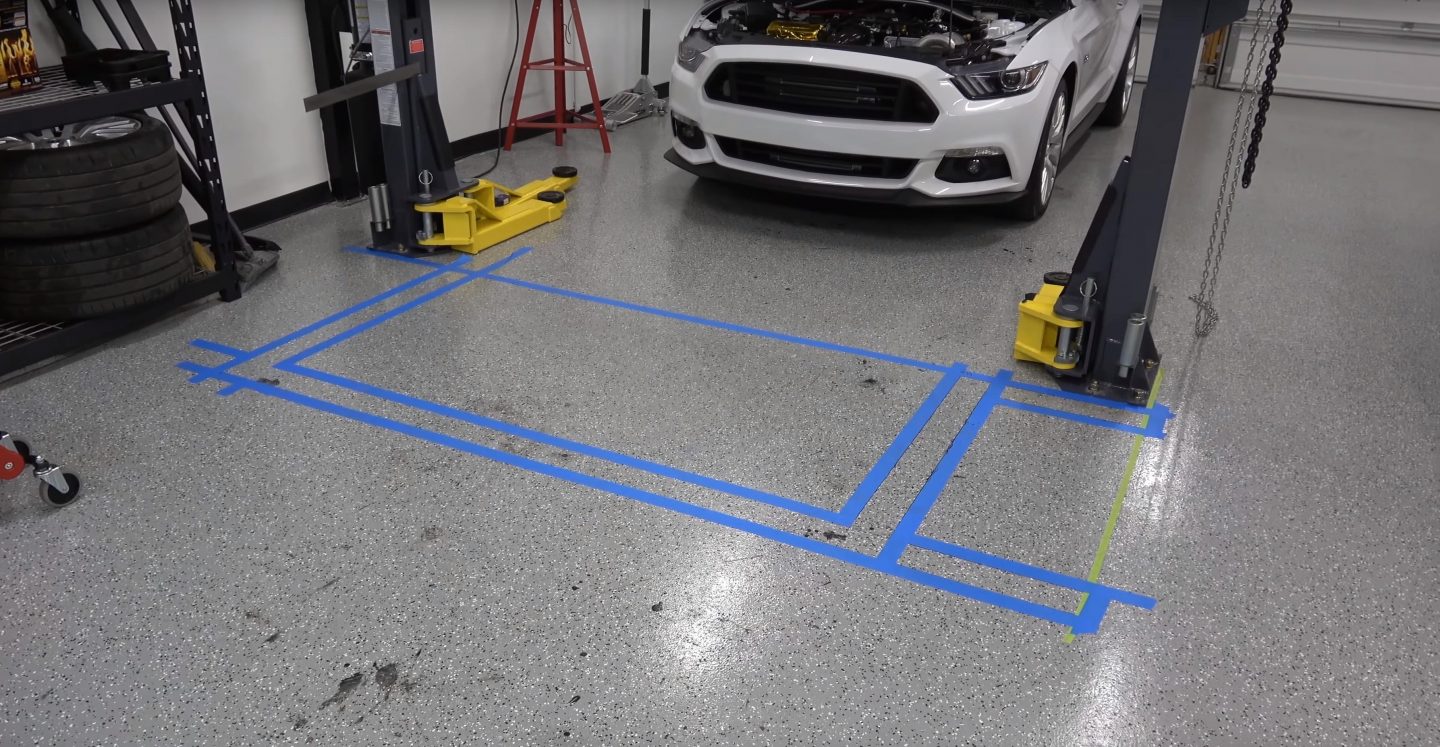 Another project I started tackling is the problem I've had lining up my Mustang just right to snatch it up with the lift. I decided painting a white line is a great idea. I always saw airplanes using those kind of markers to park at terminals.
I used some parking lot line paint from Lowes to draw the lines. It was really easy after some time doing basic geometry and laying down painters tape. The paint went on really easily and dried to the touch quickly.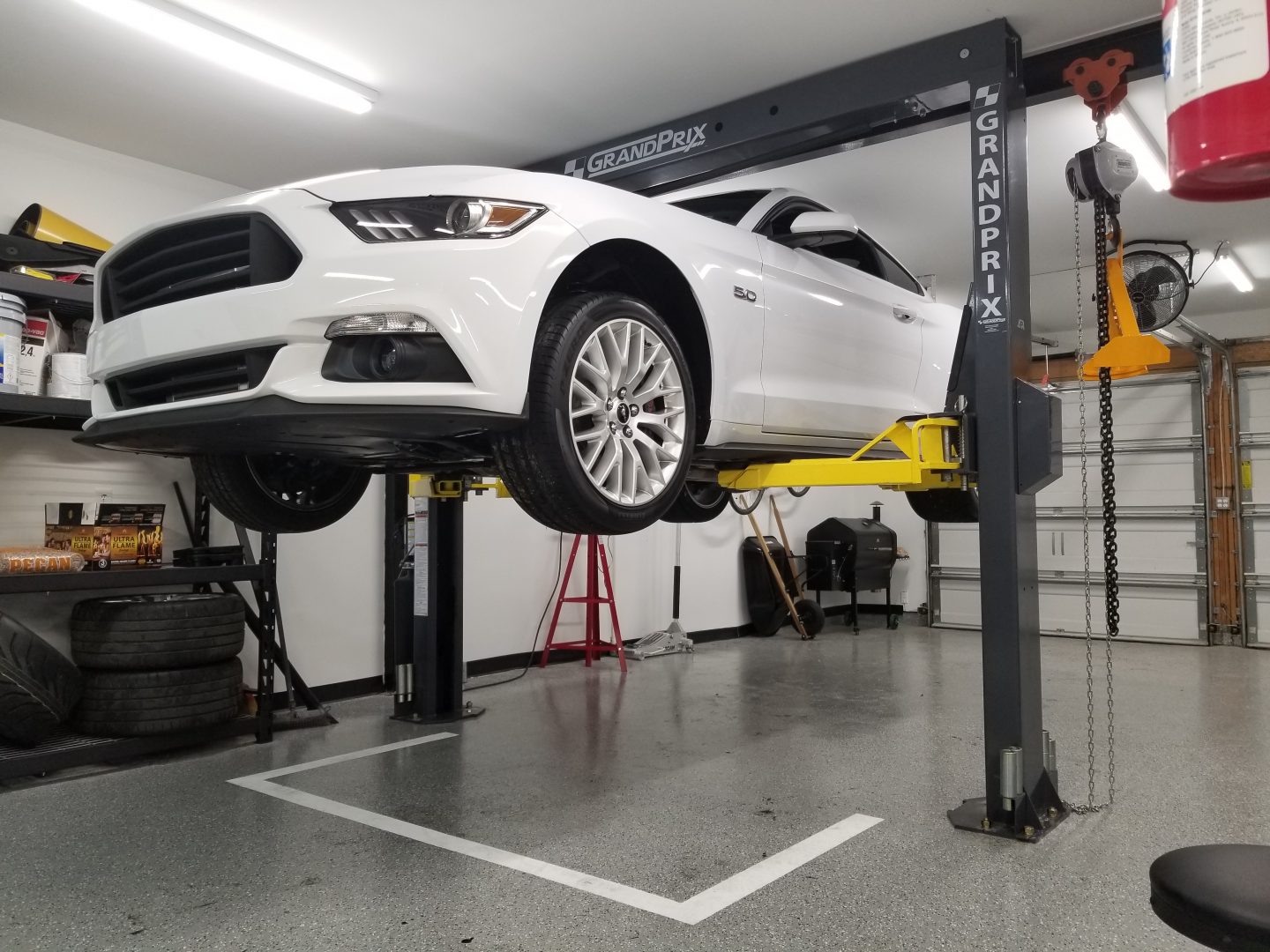 I think it came out looking sharp and it made parking so much easier. I also threw a mirror up that shows a wide angle view as you pull up. Combined I'm not constantly paranoid about crashing into the lift or over/under shooting the right parking spot.
I also decided I had to do something about the Eaton Startlite hose which I got with my Fore Innovations kit. It was just too stinky. At first I thought it was just residual fuel from installation. After a while it did air out, but as soon as I primed the pumps I would get more fuel smell. Not a problem while driving, but you can smell it in the garage.
The team at Fore recommended I try FlexLP hose. It's a similarly easy hose to work with, which is nice being a -8. The best part it doesn't smell! The hose features an elastomer core, FKM liner, and stainless reinforcement. The expected life span is 5+ years, which for my application is just fine.